'… the sooner you leave the better….'
As Hurricane Irma made landfall in the Caribbean early Wednesday morning, the potential devastation of the Category 5 storm is becoming apparent.
Jason Dunning, a meteorologist with local Southwest Florida affiliate WBBH, posted a side-by-side photo to  Facebook on Tuesday depicting just how massive Irma really is.
Dunning said the storm is close to the size of Florida considering the "distance of its cloud shield from one end to the other."
"The tropical storm force wind field is 320 miles wide. The hurricane wind field is 120 miles wide," he said. "There's a high chance most of Florida will be impacted in some way based on the storm's expected movement along the peninsula."
"If you live in South Florida and live close to the coast, the sooner you leave the better," he added.
Irma's core has maximum sustained winds of 185 mph, and these winds have already hit the islands of Barbuda, St. Martin, and Anguilla.
Other photos have also put the storm into perspective.
Meteorologist Ryan Maue tweeted a picture early Wednesday comparing the size of Irma's eye to the square mileage of Washington, D.C., as well as the island of Barbados.
Although officials are still trying to determine the exact path of Irma, they have predicted the storm will hit the southern part of Florida by early Monday morning.
Florida Governor Rick Scott declared a state of emergency, urging residents to "not sit and wait." Mandatory evacuations have been ordered in some regions.
"The entire state needs to be prepared," Scott said.
President Donald Trump also declared states of emergency in Florida, Puerto Rico and the U.S. Virgin Islands.
The National Hurricane Center called Irma a "potentially catastrophic Category 5" storm as it made landfall in the Caribbean.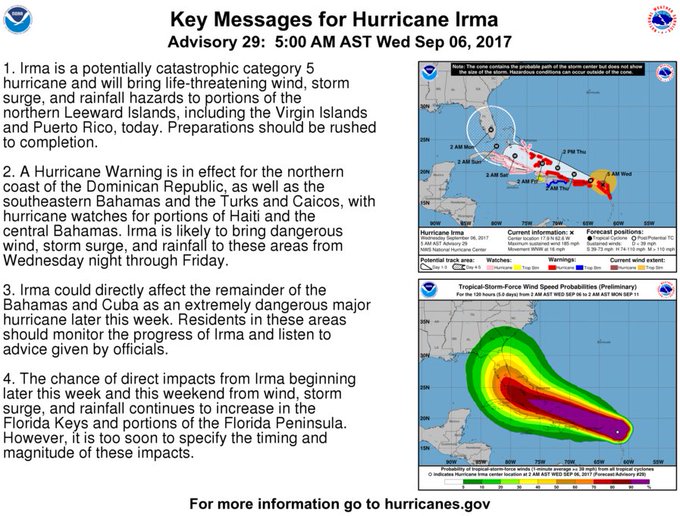 NASA SPoRT, a weather research project of the space agency, tweeted a video Tuesday night showing a "zoomed out" view of Irma.
Scott has warned that Irma could bring more devastation than Hurricane Andrew, which wrecked havoc on Florida 25 years ago.
What do you think? Scroll down to comment below.
 source:/www.westernjournalism.com